Last night we gathered the Scots, the ex-pats, the pipers, and all and sundry together for an early Burns night supper. Hanging about in kilts in 30°C late sun certainly contrasted with the frosty nights we remember in Scotland.
We tried a bit of an experiment in combining the two meats here, the beaut haggis spices infiltrating the lamb, with the juicy lamb keeping the haggis nice and moist.
The haggis: Here in Australia we prefer our haggis wild and freshly shot, keeps that nice gamely flavour compared with those flabby barley-fed specimens raised on the big haggis farms out here and in Scotland...
Haggis...a couple of tasty specimens.
What we used:
850g Haggis
1.5kg Leg of Lamb, butterflied. (your butcher can do this, or there are plenty of you-tube vids on how-to, if you fancy a good boning yourself!)
We marinated the lamb in:
Red wine
Garlic
Rosemary
Thyme
Mint
Salt & Pepper
Marinated for a few hours or overnight if possible.
Then in a big pot of salted water we boiled the haggis for about an hour.
Purely boiling the haggis, you'd probably want about 75 mins, but we pulled it up short as it would still cook when in the roasting lamb.
Then we took it out, peeled the haggis skin, and set the "haggis water" aside for reducing into a sauce.
Lay the haggis in the open butterflied lamb, then wrap it into a roll, and truss it up with butcher's string.
Just wait, it WILL look OK soon...
Fire the oven up to 200°C, and fire up a big pan on the stove on high heat.
Sear the outside of your lamb/haggis roll , then it's into the preheated oven.
25 minutes at 200°C then rest the meat for 10-15 minutes.
We sliced it in half-inch slices, then served with roasted tatties (spuds) and neeps (turnips in UK, we call 'em swedes here in Oz) boiled, mashed with a bit of salt, pepper and cream.
Succulent roast lamb leg, stuffed with haggis.
Pour the reduction of "haggis-juice" and the pan juices over the top...
A cool climate Shiraz has just the right balance of spices and fruit here, we think. We drank Dalwhinnie 2007 Moonambel Shiraz (nice Scots-flavoured name too!), absolutely stunning with this dish. The Mitchell Harris Pyrenees Shiraz would be a sublime little match too, we reckon ;-).
Of course then it's time for a wee bit ay Burns verse...we'll leave it to you to pick your own...(and translate!)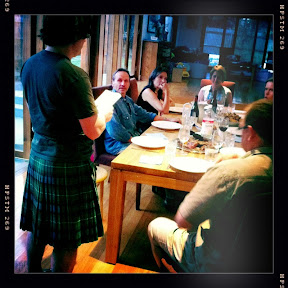 Richard delivers the Burns verse...
*pure-deid-brilliant Haggis actually obtained from the remarkable John Harbour the Butcher, in Ballarat.