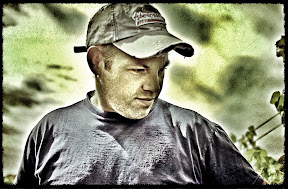 It's an exciting day as Johnno joins us full-time today, as we take Mitchell Harris to a new level.
He'll be straight into it too, with a massive list of jobs over the next few months as we grow our once tiny weekend venture into the wine company we hoped for.
Some of Johnno's job list:
Disgorge our 2008 Sabre by Mitchell Harris sparkling. (due Dec. 2011)
Start work on permits, licences etc for our new urban winery in Ballarat.
Start fitting out the new winery HQ.
Keep working through the growing season with our vineyard crew in Moonambel.
So you'll see Johnno out and about more often now, and we can't wait to see the magic he'll create now he's with us full-time...