As we lift the cover off the open- fermenter, it's a delicious wave of fruit aroma that wafts out. Like a berry compote dessert and a hint of white pepper to spice it up.
Yep, our 2011 Shiraz is picked, and fermenting away....
In a beautiful little valley in the Moonambel hills there's a patch of Shiraz in a corner of the vineyard, that we noticed last year had some terrific plump bunches of spicy grapes hanging. So for this vintage we thought... "let's have a bit of that!"
Picked last week, the fruit gave us everything we were hoping for... Yummy redcurrant fruit with that zing of pepper on the nose and palate.
A few hundred kilos of Viognier grapes from a few adjacent rows has been tossed in to give just a little lift to those fruit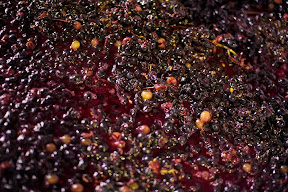 So, from here, it's a real "Hands-off" approach. Wild ferment, then into a combination of our new and old French oak hogsheads for about 18 months.
And not much else...!
We hope we can leave the fruit to do the talking, and perhaps come up with a delicious, spicy, ever-so-slightly-funky Pyrenees Shiraz true to that little corner of the little vineyard in the little valley up past Moonambel...